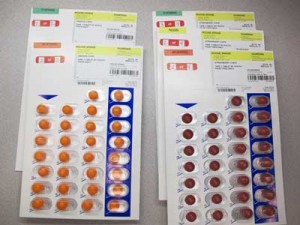 Meet with us one-on-one to discuss the packaging option that best fits your needs, your clients' needs, and your regulatory responsibilities.
At Guardian Pharmacy of Atlanta, our goal is to provide the most advanced and convenient ways of administering and delivering medications to patients requiring long-term care — including those in skilled nursing, assisted living and independent living facilities. We offer an array of packaging options to meet your specific medication needs.
Packaging options include compliance strip packaging in unit-dose or multi-dose. Guardian is proud to be the first pharmacy in Atlanta to offer color-coding on our multi-dose strips. These colors will allow a caregiver to quickly identify medications according to the time of day simply by following the color system! This system, combined with our Electronic Medical Administration Records, provides your residents with a safer and more accurate pharmacy system.
In addition to our multi-dose strips, we offer single-dose bubble packs. These "blister packs" provide barrier protection for your medications, as well as tamper resistance to ensure your medications arrive properly and can be stored safely. This system allows the caregiver to easily press each medication out of its individually sealed bubble.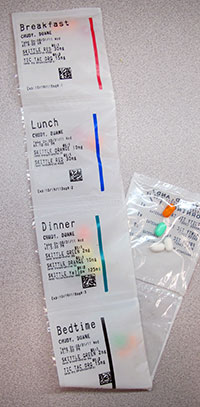 We will work with you to find the dispensing system that works best for you and your clients — giving you a new level of convenience, flexibility, and accuracy in medication dispensing and administration.