Everywhere you look, there is something or someone talking about CBD. Stores selling CBD are popping up all over the Atlanta Metro-area, and the medical benefits seem endless. What is the real story of CBD?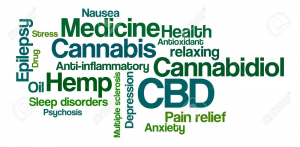 Cannabidiol, or CBD, is a compound derived from the hemp plant and contains less than 0.3 percent of tetrahydrocannabinol (THC), the main psychoactive compound in marijuana that gives the "high" sensation. CBD comes from the hemp plant and does not produce the "high" of marijuana as long as the product contains less than 0.3 percent THC. Once classified as a Schedule I Controlled Substance, CBD products have since been re-classified following the passage of The Hemp Farm Act of 2018, which recognized industrial hemp as an "agricultural commodity." The FDA states that THC and CBD products cannot be legally sold as dietary supplements and retains its authority to regulate cannabis or cannabis-derived products, even if they classify as hemp.
Supplements, in general, are not studied nor approved by the FDA.  There are no approved indications, no side effect studies, and no proof that the product is effective.  The same is true for CBD. Any supplement that your assisted living or personal care home resident would like you to take should have indications and side effects noted, especially if unlicensed personnel is administering the CBD. There must be a specific order from a physician, with the correct dosage and frequency defined. Since side effects are a required component on the Medication Administration Record (MAR), the order should include those as well. Finally, the CBD product and any other supplement must be packaged according to the specific rules for the LTC community. Remember that pharmacy labels are not a state requirement on OTC products if it belongs to a specific resident, and there is a current order for that product intended for that specific individual. However, many companies and communities have a pharmacy label requirement policy, which is the best and safest way to go.
Currently, the Georgia State Board of Pharmacy does not allow any pharmacy in Georgia to dispense CBD products. Georgia has legalized medical marijuana, but it will likely take well over a year before state-sanctioned medical marijuana oil reaches the hands of patients. There is no timeline or indication of when CBD products will be recognized by this state and the Board of Pharmacy. We are not allowed to repackage CBD products according to Georgia Repackage laws. Therefore, unless the product is appropriately packaged, has a specific order with indications and side effects and is verified that the THC content is less than 0.3 percent, it should not be in your building.
It is important to note that the FDA has approved cannabinoid-derived products (either synthetic or cannabidiol) for the following indications: Treatment of seizures associated with Lennox-Gastaut syndrome or Dravet syndrome, Anorexia and weight loss associated with HIV/AIDs and chemotherapy-induced vomiting. There are no other approved indications for the use of cannabinoid products, and these products can have serious adverse drug reactions.
Guardian Pharmacy Atlanta is your partner in medication management for your residents. We put safety first in all that we do.  If you are getting questions, products coming in the door or families demanding that you administer CBD products to your residents, please call us at 770-635-3301. We are happy to provide you with the latest information available.