Georgia Senior Living Association held their luncheon meeting at Maggiano's Buckhead Restaurant on Friday, February 17.
Elaine Wright, Director Personal Care Programs, Healthcare Facility Regulation Division, Department of Community Health, was the keynote speaker at the event.  Guardian Pharmacy Atlanta was honored to sponsor this informative luncheon.
Elaine presented the Top 10 Rule Violations for both Personal Care Homes and Assisted Living Communities for 2016.  Many of the top violations were due to missing background checks, CPR training, or the lack of fire safety drills.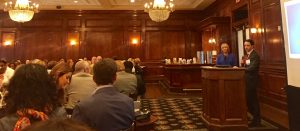 More pertinent to pharmacy was the ALC #2 top violation, under Certified Medication Aide Requirements, of quarterly med pass observations to be completed for each CMA at least twice in 12 months.  This random quarterly observation may be completed by a pharmacist or licensed registered professional (RN).
Guardian Pharmacy helps communities meet this requirement by observing at least one CMA on each visit.  We recommend you have your RN observe quarterly as well so that all of your CMA's are observed in the appropriate time period.
In Personal Care Homes, it was noted that the PCH #4 top violation, under Medications, that the MAR must be updated each time the medication is offered or taken.
All of Guardian Pharmacy's training programs are based upon the Six Medication Rights, and Documentation is one of those rights.  All medication staff are taught that updating the MAR immediately after each resident takes their medication is an important step in the medication administration process.
All who attended the luncheon left with a better understanding of both ALC and PCH rules, and got a glimpse into how some of the rules are interpreted by the state surveyors.  Guardian Pharmacy Atlanta is proud to partner with GSLA and our communities to help keep all of our residents safe, healthy, and happy.
If you would like more information about Guardian Pharmacy Atlanta services, please call the pharmacy at 770-635-3301.