Guardian Pharmacy Services held its annual PMM, or Pharmacy Management Meeting, in Atlanta on March 23-24, 2017.
This meeting is held for all Guardian Pharmacies' management teams to review, renew and refresh each year.  Even with a shortened format, the pharmacy teams came together to focus on the past, the present and the future of long term care pharmacy.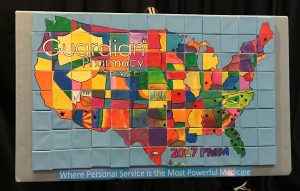 Guardian Pharmacy Services focuses on exceptional customer service, and that model is carried out to each pharmacy team across the country.  Any long-term care pharmacy can dispense medications; but a Guardian long-term care pharmacy dispenses medications while providing full support, accuracy using cutting edge technology, and that feeling of belonging to a family where someone is there for all your pharmacy needs.
Guardian Pharmacy Atlanta's management team heard about our partnership with Brookdale, one of the premier providers in the country.  We learned about the confusing political and legislative environment, and what may be happening with the changing of political parties at the White House.
We met with old friends from other pharmacy locations and got to know the new faces of Guardian's more recent partners.
At the awards banquet, Guardian Pharmacy Atlanta received one of the six Pharmacy Excellence Awards given this year.  The management team left the meeting with a renewed focus on our mission and our goals, which include being the best long-term care pharmacy provider in the Metro Atlanta area.  Being the best begins with exceptional customer service!
If you are interested in learning more about Guardian Pharmacy Atlanta's exceptional long term care pharmacy services, please call the pharmacy at 770-635-3301.  We will be happy to speak with you!